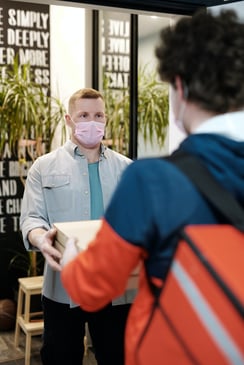 You don't need a study to tell you that up until March 2020, the North American restaurant industry was thriving. All that changed as many states went on lockdown in March and April as a result of COVID.
In April 2020, consumer spending on food away from home (FAFM) dropped a further 34% over March (already down 20% from Feb). That's a difference of $31.9 billion dollars over just two months. This includes everything from curbside or in-store pickup options, to delivery to drive-thru.
Now that we see somewhat of a rebound and consumer spending on FAFM is going up, what could this mean for spending through different ordering channels like mobile apps and delivery?
Covid's Impact on Ordering Channels
During Covid, there was an overall 7% increase in app/website orders when compared to pre-Covid. With limited ways to get food, it seems that a large amount of guests opted to use an app or web ordering platform instead of calling in their order.
Six to twelve months after the lockdown, the highest percentage of app users (for food ordering) are young, urban, and high-income, with the "under 34" age bracket ordering about 34% of their food through apps and websites. However, even 25-64 year olds are ordering their food from web or mobile apps 1/4 of the time.
All delivery and curbside pickup options (for all demographics) have increased by about 10% throughout COVID. Consumers are understanding the importance of supporting their favorite restaurants that may not have enough margin to exist on a mainstream delivery app. If restaurants are not going to be present on third-party delivery apps, the design of their websites and their own apps is crucial.
Are Guests Spending Less at Restaurants in General?
Actually, in terms of the percentage of restaurant meals on a daily basis (i.e. breakfast, lunch, dinner), there has not been much change from pre-COVID times to the 6 months since the onset of COVID.
It appears, from the same study, that consumers are more ready to spend the extra dollars on dinner in the 6-12 months post-COVID lockdown area. This is likely because they are missing the moments of connection and social interaction.
Investing in Tech pays off for QSR Chains
Across social media throughout the height of lockdown during the months of March-May, you may have seen some information urging you to buy from your favorite small businesses and restaurants so they could survive. But what about major QSR chains?
Many of these chains are participating in third-party restaurant ordering apps or already have their own restaurant loyalty app. Take a look at Starbucks, for example. According to insights, the average amount spent during the pandemic actually increased, with the product mix remaining largely unchanged. Starbucks, however, has gone to great lengths to make sure their guests and their employees feel safe when visiting their locations. This is an effort to foster trust throughout the communities they operate in. Starbucks is planning to open more "rapid pickup" locations in urban areas where there is more commercial real estate available due to the pandemic. Essentially, opening pedestrian "drive-thrus". Here, pedestrians can use Starbucks' restaurant loyalty app to order ahead and swing by to pick up their orders.
Similarly, Chipotle is working on building drive-thru lanes dedicated to picking up mobile orders from their restaurant loyalty app. They have invested heavily in their mobile app long before the pandemic, and it's been paying off.
It appears that major chains that have invested in their technology and their restaurant loyalty apps are doing better than ever, as consumers were first forced online, and now may not want to linger in stores, restaurants, or other enclosed spaces until there is a COVID vaccine.
So, what is there to learn from Starbucks and Chipotle?
What are the next steps my restaurant can take to survive and thrive?
Based both on our experience and industry research, we suggest considering the following initiatives:
Launch a white-label mobile app
Set up a loyalty program to increase customer retention
Design an efficient curbside pickup experience
Offer delivery or partner with a local delivery service
If you aren't in the position to launch your own custom-designed mobile app, a white-label option where you simply customize a pre-existing design is a great option. However, for this option guests will need incentives to download the app. Phone storage is expensive real estate so unless you've got huge brand power, you will need to give guests a reason to complete the download.
In the meantime, what you can do is create an efficient curbside pickup experience that guests will love and partner with local delivery drivers to get your food out there! While you may not have an app, restaurant online ordering is very easy to implement quickly.
Full serve/fine dining restaurants are especially hurting during this time, while quick-service restaurants are thriving.
Table service restaurants are especially vulnerable during this time due to both dining restrictions and changes in guest behavior. Many full-service restaurants have been expanding their offerings so that guests can experience their food in their own homes. Things like meal kits or even selling their wines/cocktails a la carte have been popular.
Using a digital guest experience platform for restaurants on the web, mobile, and in-store channels is always a great option.
If you're interested in learning more about Incentivio's Digital Guest Experience click here to schedule a demo!