A Seamless Toast POS Integration
Running a restaurant is complicated; running your software shouldn't be. For six years, Incentivio has been a member of Toast POS Integrations— we utilize the latest Toast APIs to provide a seamless experience across menus, online ordering, loyalty programs, payments, and marketing.

What does a seamless Toast integration mean? It means that when a customer orders through their app or web browser, their order fires directly to the Toast POS printers and/or KDS screens. It means you can 86 items in real-time in Toast and have them reflected on your custom Incentivio mobile app and online ordering pagers immediately. It means that you can void, refund, or edit digital orders on the Toast POS or in the Toast admin portal at any time; in-store, online, and in the mobile app, you can reward guests, add to their loyalty balance, and accept gift cards using the camera on the Toast POS or scanners.
Toast Loyalty & Rewards Program
Build your Toast loyalty program around your business! Our loyalty program is fully tailored to your business, allowing you to choose what offers you'd like to make and how much they're worth. Your next loyalty system isn't limited to online or in-app purchases! We fully connect with every step of your business, including in-store earnings and redemption.
In-Store Earning
Reward guests for in-store transactions. With our loyalty, you can look up loyalty accounts within Toast's POS and apply points or offers to checks. Find customers by phone number, name, email address, or loyalty ID. Points will get awarded the morning after purchase, protecting your restaurant from voids, returns, or fraud.
In-Store Redemption
Help your customers leave with smiles on their faces by enabling in-store redemption for loyalty points and offers! After customer lookup, your staff can effortlessly select the discount or reward within Toast POS and apply it to the customer's transaction. Points and offers are redeemed in real-time.
Integrated App & Web Ordering
Integrating Incentivio and Toast can provide a significant efficiency boost to your front-of-house without little to no extra work. We cut out the middle man and send app & web orders directly to your printers. We print at the right station, at the right time, saving your team the trouble of tracking and timing orders submitted in advance.
Toast POS Menu Integrations
Don't build your menu twice. We synchronize with Toast menus, including Groups, Items, Modifier Groups, Modifier Items, and business rules (e.g., select a maximum of two) so that you can trust if you make one change, it's made everywhere.

Worried about changes further down the road? Re-synching is as easy as clicking a button, plus our system automatically looks for menu changes and re-synchs! Images can be dragged onto menu items, and menus can be re-ordered using a simple graphical interface.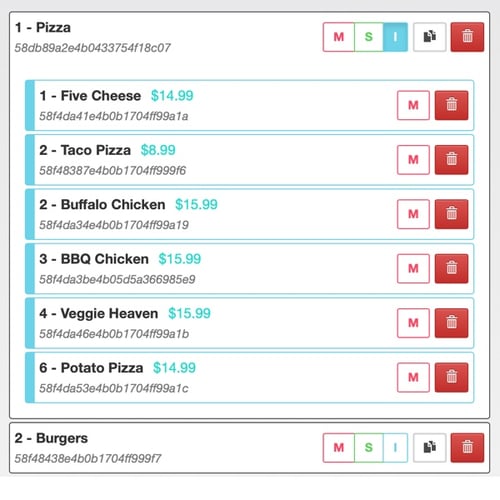 All-In-One Guest Experience
Like e-commerce giants, Incentivio is dedicated to making sure that engaging with your brand is simple and easy to accomplish. We house all our programs under one roof and provide your guests with a single, secure account and wallet— accessible in the app, online, and in-store. One single account holds their loyalty points, your restaurant offers and coupons, gift cards, credit cards, and order history.

Sound too good to be true? Combined with data provided by Toast POS, we can give you an accurate and detailed look into your guest profiles. No more guessing games; our actionable data gives you the tools to leverage your marketing and improve the sales process.
Data-Driven Marketing with CDP & Analytics
Attract new customers and retain your existing ones! Our next-generation CDP analyzes your guest accounts daily and automatically updates guest segments. This allows you to set up campaigns that are automatically triggered based on events, thresholds, or actions. Campaigns can run without supervision once set up.
POS-Integrated Delivery
Need to make sure that your POS easily connects with top delivery options like Doordash and Uber Eats? With Incentivio, we ensure that you gain access to an on-demand fleet for a flat rate, without any hidden fees— all without having to hire your own company drivers. Not looking for a one-size-fits-all experience? Customize delivery fees based on distance to keep prices better regulated.

The best part? All the benefits of tracking and timing orders that you'd normally get with 3rd party delivery come along as part of the package! Integrating Toast with Incentivio creates a smooth and dependable delivery experience for your customers.

We would love to talk more about your needs and how we can help a restaurant that runs on Toast. You can pick a time that's convenient here.